Eisen MKT028 2PC Fan Clutch Wrench and Water Pump Holder Removal Tool for BMW, Mercedes, Ford and other engine models.
$1899

$18.99

Save $3
Free shipping for all items Up to 150 lbs!
---
Easy to Use: Easily remove the lock nuts on temperature dependent viscosity drive fans; easily hold the water pump pulley in place while loosening the radiator fan

Compatible: Made for but not limited to the following engine models M4, M10, M20, M30, M40, M44, M50, M52, M52TU, M54, M56, M60, M70, M73, S14, S38, S54, S50B30, S50B3

Heavy and Durable: Premium high strength steel for this 32mm Automotive Fan Clutch Nut Wrench

If you need to remove the reverse threaded fan,this fan clutch wrench Worked great, made the job of replacing the radiator so much easier.

This 2-Piece Fan Clutch Wrench Set is a necessary option if you are going to remove your thermostat or water puimp. Cut my job in more than half the time without it. I recommend that anyone this job needs this tool and the combo set makes it a brainier
See more product details
---
---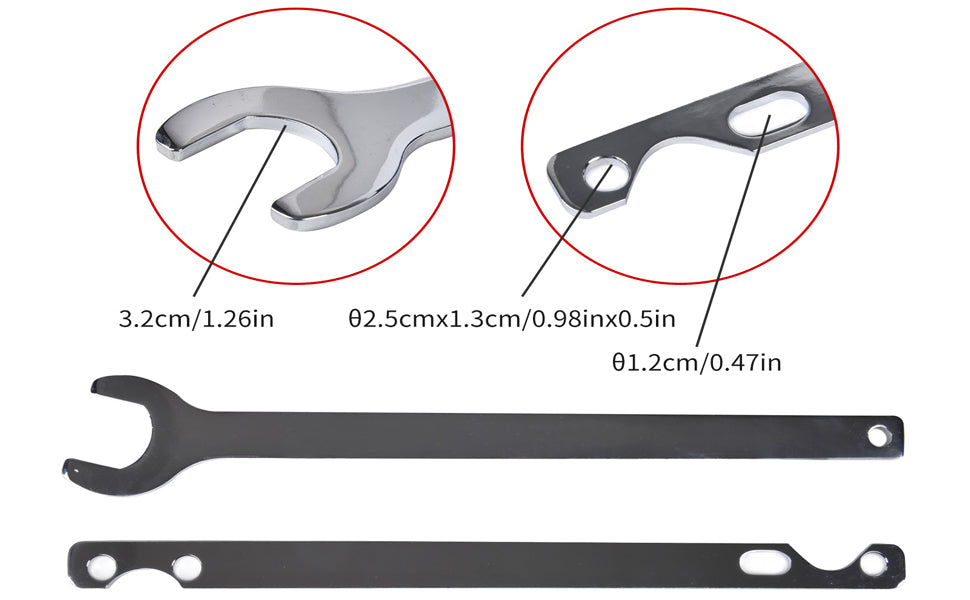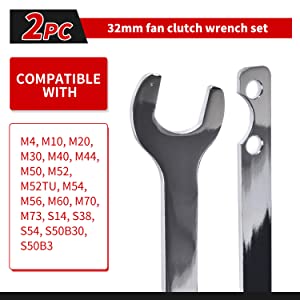 Multi-Use Ends: 32mm Open-End Wrench, and 2 sizes of Water-Pump Nut Spanners, Convenient and Useful for a Variety of Applications.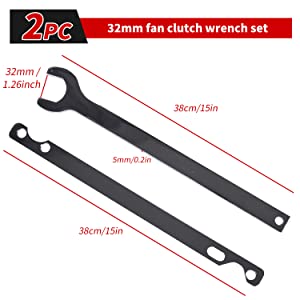 32 mm Head fits multiple engines. Non-Slip grip is functional and comfortable.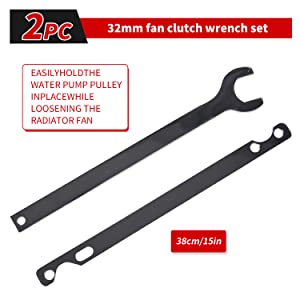 Heat Treated Steel for Premium Quality Construction and Strength.
Size: 32mm (1.26"") Material: High strength steel
Suit for: B M W engine models M10,M20&M30 and other late cars
---
Size: 32mm (1.26")Material:high strength steelSuit for: engine models M10,M20&M30 and late cars.On the vehicle this will help remove the clutch fan to allow you to access the belts, pulleys, water pump, thermostat and much more. Essential if you want to DIY some of the basic repairs. In order to remove water pump on models with temperature dependent viscosity drive fans.Compatible with M4,M10,M20 ,M30, M40,M44,M50,M52,M52TU,M54,M56,M60, M70, M73, S14, S38, S54, S50B30, S50B32How To Use1. Choose a wrench of appropriate size, put it on the fan clutch.2. Connect the hook at the end of the wrench to the pneumatic extension rod, put the extension rod in the air intake hammer.3. Hit the air hammer to rotate the fan clutch counterclockwise.4. Air hammer is not included, please purchase by yourself.
Technical Details
---
Manufacturer
Aain
Part Number
MK28
Item Weight
1.6 pounds
Package Dimensions
15.3 x 2.7 x 0.7 inches
Item model number
MK28
Material
Alloy Steel
Power Source
Hand Powered
Item Package Quantity
1
Head Style
Fixed Square, C Shaped
Included Components
Fan Clutch Wrench Set
Batteries Required?
No
---
We Also Recommend
---
Exact fit
I needed both of these wrenches in order to remove the fan/clutch assembly on my 2002 BMW E46. The fan /clutch assemble had to be removed in order for me to replace the coolant expansion tank assembly that was leaking. The one tool is a 32mm open end wrench and the other tool is used to hold the other end of the assembly to unscrew the fan counter clockwise. Worked great.;
Minor issues
The tool did not fit exactly right away. I had to drill the hole bigger with a 1/2 inch drill bit. It was off by 1 mm where the bolts line up on the fan belt housing. My 2006 bmw m3 e46. Once I opened up the hole it aligned correctly. The tool is nice and thick and it did not bend like previous pics for other people. For 16$ it's worth it!;
Helped me put the fan on my car back in place safely and professionally!
Put fan back on my car !;