Aain AA011 24-Inch High Velocity Industrial Drum Fan, 7500 CFM Air Circulator for Warehouse, Garage, Workshop and Barn Use,Two-Speed, Black
$14310

$143.10

Save $28.62
Free shipping for all items Up to 150 lbs!
---
COMMERCIAL QUALITY DRUM FAN:This powerful fan is made from rugged steel and built in premium motors.The convenient handles offer greater portability, make it easy to move from place-to-place.

MAXIMUM 7500CFM: High: 1500 RPM, Medium: 1310 RPM. High efficient motor and blades make larger air flow. 2-speed setting rotary switch on the back housing.

EASY TO ASSEMBLE & EASY TO MOVE:Built to Last with a metal fan cage, you can 360 degrees vertical tilt very conveniently and built in 5-in wheels for easy movement

IDEAL FOR USE:this heavy-duty drum fan ideal for cooling or ventilation of an area. Ideal for garages, patios, shops,barns and more

SAFETY FIRST:High-temperature resettable thermal shutoff,low-noise,OSHA-compliant safety guards
See more product details
---
---
24" Industrial Drum / Barrel High Velocity Rolling Adjustable Fan Warehouse
120 Volt/60 HZ UL Approved All Metal body
24" Drum 3 individual Steel Safety Fan Blades Automatic Overheat Protection,
2 Speed Rotary Switch Adjustable Tilt Ideal for use in workshop, patio, basement, warehouse
High Watts: 266
Amps: 2. 35
RPM of Blabes: 1500
Low Watts: 238
Amps: 2. 03
RPM of Blabes: 1310
High CFM: 7500
Low CFM: 4200
OPERTATING INSTRUCTIONS
1. Place the fan on a safe, flat surface where it can not fall or be pulled by the cord.
2. Select desired direction of air flow by tilting the fan grill upward or downward.
3. Plug unit into electrical outlet.
4. Select preferred speed (1-Low, 2-Med. , 3-High) by rotating the switch knob on the control box.
5. Always turn off (0-Off) and unplug fan after using.
---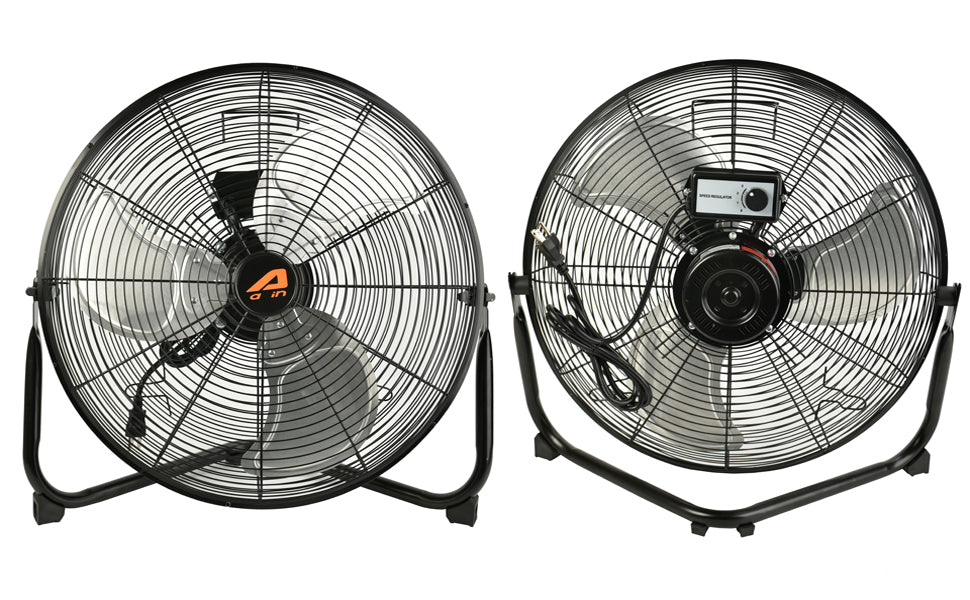 20-Inch 6000 CFM High Velocity Floor Fan 

Convenient handle offer greater portability

Adjustable 360° Tilt Fan Head 360° to Direct Air Flow & Circulation - Allows you to direct high velocity air up, down, or anywhere in between making this fan ideal for cooling or ventilation of an area

High efficient motor and blades make larger air flow

Equipped with skid-resistant feet to keep it firmly situated
Voltage: 120V

Amperage: 1.2A

Wattage: 144 Watts

3 Speeds (High/Medium/Low): 1491/1348/1194 RPM

Weight, Net/Gross: 12.21 lbs

CFM: 6000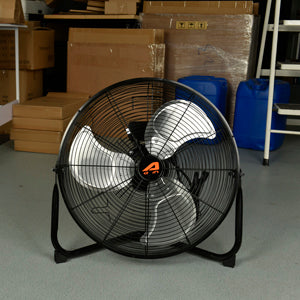 360 Degrees Adjustable
This High Velocity floor fan, possesses a 360° tilt adjustable head which offers precise air movement .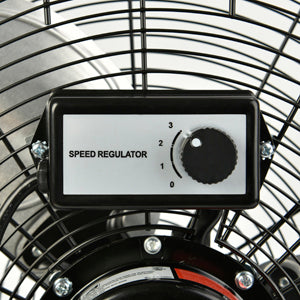 3-SPEED SETTING
High: 1491 RPM, Medium: 1348 RPM, Low: 1194 RPM.
3-speed setting rotary switch on the back housing.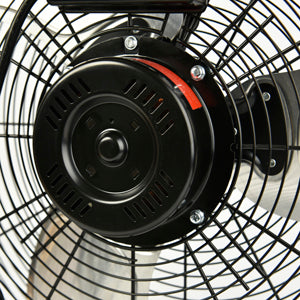 PREMIUM MOTORS
Automatic Overheat Protection
High-quality motor which has long life and low noise
This powerful fan made from rugged steel and built in premium motors to save you money and provide low maintenance ventilation.
Overall Dimension: 30"(W) x 8.7"(L) x 29.5"(H)
Will help keep your shop or garage cool and comfortable throughout the year.
For home to the workshop this fan is easy to use, powerful, and portable.
Tough construction makes this the perfect fan to use in any indoor environment.
Built-in carrying handle for moving fan from location to location
Tilt adjustable to direct precise movement
Durable metal housing on front and rear grill
Technical Details
---
| | |
| --- | --- |
| Model Info | AA011 |
| Brand Name | Aain |
| Package Dimensions | 30.12 x 29.53 x 8.66 inches |
| Item Weight | 34 pounds |
| Item model number | AA011 |
| Part Number | AA011 |
| Special Features | Manual |
| Color | Black |
| Voltage | 120 Volts |
| Certification | OSHA |
| Material Type | Stainless Steel, Iron |
| Included Components | Floor Fan, Wheels, Manual |
| Batteries Required? | No |
| Assembled Diameter | 24 Inches |
---
We Also Recommend
---
LOUD, but works very well.
I bought this particular fan, having read the reviews, and the pricing point going into the summer season for our backyard screened in porch. We have an overhead fan, and it works well, but needed some more air movement. I have to say this one does the job, and does it well. That being said it IS loud. The previous reviews said as much and I was expecting it. On low, we can have a conversation without too much difficulty. On high? Forget it. And anyone weighing less than 150 pounds is likely about to take flight. Overall, I'm very satisfied. I don't care for the noise, but I knew it would be noisy going into it. It works very well, and circulates a LOT of air, even in a screened in porch.
Quality fan!
It's a nice fan! A little noisy. Could be worse.
Very effective
The fan put outs a great amount of air. Easy to manipulate and quiet. Great product.
Good
We received this fan two days earlier and it will make a great addition in our garage from cooling off after mowing or while in the garage gym. It doesn't take up much space and the wheels work good. This is very powerful fans . It will help a lot in the summer in NC. All in all happy with our purchase.