Aain AA003 Heavy Weight Oil-Only Absorbent Pads, Absorbing Mats, 20" x 15" 100 pads per box
$4199

$41.99

Save $23
Free shipping for all items Up to 150 lbs!
---
Item: Oil Only Absorbent PadsSize: 20" x 15" 100 pads per box
Tough, durable, and economical: Eight layers of 100% polypropylene are thermally bonded to be so durable they won't rip, tear, or fray even when saturated.
Fast absorption: Unique dimple pattern speeds up the wicking of oil throughout the mat for faster, easier cleanup.
Cleanly absorbs oil: Highly absorbent, fine-fiber construction won't leave behind liquids or fiber residue.
Hydrophobic pads absorb oil and repel water: Absorbs and retains oil and oil-based liquids, including lubricants, fuels, and other petroleum-based products, leaving the water behind.
Clean spills on water: Oil-absorbing mats float on water; absorbing only the oil and wicking away the water.
See more product details
---
---
White Oil Absorbent Mat -perfect industry mats & absorb oil-based liquid
Oil-Only Absorbent Mat
White Oil Absorbent Mat. Strong, durable, and low linting, these features make it the perfect product for nearly every industrial setting. 100% polypropylene.
Long-Lasting
Lasts 2x longer, eight bonded layers make mats tough and durable, for fewer change-outs. Eight layers of 100% polypropylene are thermally bonded and won't rip, tear or fray even when saturated.
Fast Absorption
These mats absorb all oils including hydraulic oil, gasoline, diesel fuel, vegetable oil, etc.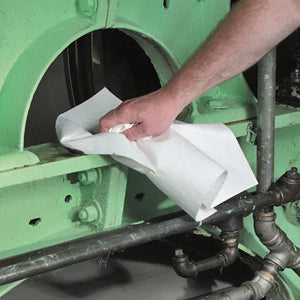 Heavy-weight Oil-Only Absorbent Mat Pad
Great for anybody with a garage. In addition to their obvious application for oil spills, they're also very handy when working on carburetors and small engines. Use a clean one as a work surface to keep small parts visible and clean.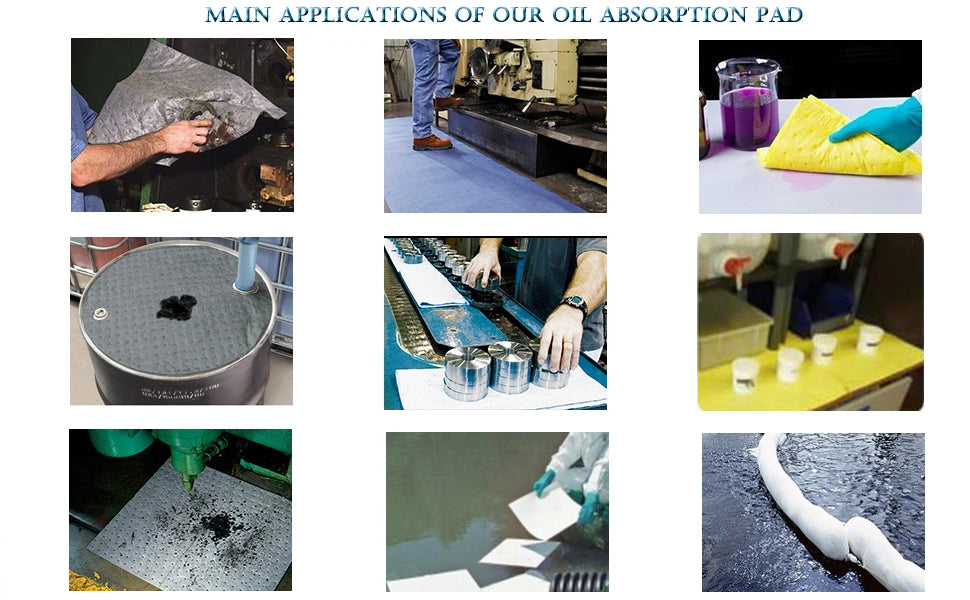 ---
Quickly absorbs leaks, spills, and overspray to keep floors dry. Perforations allow you to tear pads and rolls into different sizes based on your application. One layer of SpunBond fabric is ultrasonically bonded to a single layer of MeltBlown absorbent. Oil selective repels water but absorbs oil and oil-based fluids. Our exclusive dimple pattern speeds the wicking of liquid throughout the mat for faster, easier cleanup
Technical Details
---
| | |
| --- | --- |
| Manufacturer | Aain |
| Part Number | AA003 |
| Item Weight | 7 pounds |
| Package Dimensions | 20.4 x 15.3 x 6.6 inches |
| Item model number | LT11A2 |
| Power Source | Hand Powered |
| Item Package Quantity | 1 |
| Included Components | Absorbent pad |
| Batteries Required? | No |
---
We Also Recommend
---
The Best
These oil absorbing pads are much thicker than another product that we had. Exactly what we need on our large yacht.;
Excellent price very good absorption.
They work very good and are very strong.;
Avoid oily mess. Buy these!
I called Aain on the phone. They actually answered their phone! A real-live person -- who actually knew facts -- answered the phone. And they told me I could order on Aain and get quick delivery. I was pleased! In case you are not familiar, these absorb oil. So if you have to soak-up some oil, these work great. If you might spill some oil, then put one of these in place ahead of time. But the thing that makes these awesome is that they do not absorb water. If you have a puddle with oil on it, throw this on top. The absorbent material floats on top. It absorbs the oil while floating atop the water. Nothing better! Buy this Aain product. They invented the stuff. It works!;
Heavy Duty Absorbent
This is a great product; heavy duty, soak up all the oil out of the water to make an easier disposal.;
Work great
Under the engine in the boat;