LT002 Professional Underhood Work Light Bar Super Bright LED Dual Lights Folding 180' Rotation Rechargeable Cordless Work Light for Auto Repair Blackout Emergency Camping Hunting
$4999

$49.99

Save $27
Free shipping for all items Up to 150 lbs!
---
rightness: This under hood light provides enough light when working, it's important our under hood work light to light enough space. It also have lighting setting high, low.

Source of power: Our underhood lights work on both DC and AC power; therefore, cordless led work light easy to carry, Hoods that are cordless provide convenience and flexibility in terms of place for outdoor and indoor activities, such as emergency lighting, car traveling, camping, walking, hiking and so on

Magnetic base & Hooks: A strong magnetic base provides an alternative option for attaching the light to illuminate the working area in a vehicle hood. Lights with hooks also provide space for hands-free repair. It is better to choose our work light with both hooks and magnetic hooks since it is more versatile and flexible.

Foldable design: It has a foldable design for easy storage when not in use. this includes a foldable light bar, the work light has an adjustable length, which ranges between 48 inches to 68 inches. The work light can be used in hunting, boating, camping, automotive and commercial use.

Battery level indicator: Rechargeable work lights have features that indicate the percentage of battery remaining to/after a full charge. This will make it simple for you to know when it is almost running out of charge and when it needs to be charged.
See more product details
---
---
LED Rechargeable Under Hood Work Light
Foldable Bracket
Bracket folds for compact storage
2 Detachable Work Light
It's super bright and snaps right on the hood and holds it's charge for a long time.
Get 2 lights in the purchase of one, 2 rechargeable LED work Light included with the metail frame
Fast Charge
Only take 4 hours to fully charge the light (USB Charging Cable included)
Charging/operating time:
6/3.5hrs. Battery level indicator Foldable design for easy storage when not in use.
Includes foldable light bar, AC/DC adapter and 12V car charger comparable to Milwaukee Under hood light, snap on under hood light and Monster under hood light. Charger Included.
Professional LED Folding Underhood Worklight
It can be recharge while you're working
Superior Bright 1400 Lumens, and 40 SMD LEDs this worklight gives complete engine bay illumination.
Robust design with built-in spring, loaded telescopic mounting brackets,and soft padded hooks that provide good protection against mounting surfaces.
Light source rotates within clamps to direct as required.
Professional Underhood WorkLight Bar 1400 Lumens Great for Home and Professional Garages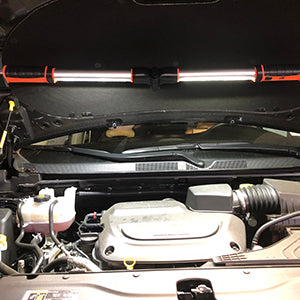 1400 Lumens and 40 SMD LEDs give complete engine bay illumination. ABS and aluminum construction.
LED light board provides super bright luminance while being lightweight and compact for easy transport between jobs.
Fold-able design for easy storage when not in use. Includes fold-able light bar, AC/DC adapter, and 12V car charger.
That holder has padded claws on each end and the bar is under tension. This allows you to stretch the bar out and place each end on the edge of your hood and it will stay there. The padded claws prevent damage to the surface.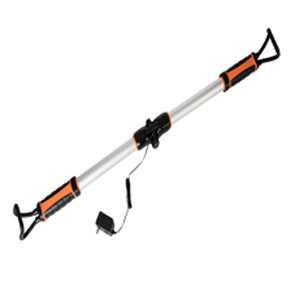 It can be recharged while you're working
Battery: Li-ion 7.4V - 2.2AH Lithium-ion
Charging/Operating Time: 6/3.5hrs.
Battery level indicator. Charger Included
Just plug the end of the light into the charger provided. One charger works with a wall outlet.
---
Highlighted Features 1400 lumens with super brightnessThree function switch: standard mode, eco mode and offStandard mode offers 14 00 lumens brightnessCan be folded in half Uses a rechargeable lithium-ion batteryLength is adjustable between 48″ to 68″Include chargers
Technical Details
---
| | |
| --- | --- |
| Manufacturer | Aain |
| Part Number | LT002V |
| ASINt | B09NJ9D9RK |
| Product Dimensions | 23.3 x 3.1 x 1.7 inches; 1.3 Pounds |
| UPC | F635411974239 |
| Batteries | 1 Lithium ion batteries required. (included) |
| Best Sellers Rank: | #195,568 in Tools & Home Improvement |
---
We Also Recommend
---
Buy it now!
Hands down one if the best purchases I've made in a long time. This light has been great. I do a lot of work on my own vehicles and needed a replacement for a wired drop light and decided to give this one a try. It has been perfect, great battery life and bright. It's not only great in the garage it has proved itself useful working under the kitchen sink to repair a water leak and in the attic replacing a light fixture. My only regret is not buying it sooner and not buying more than one. I will be buying a second light so I can keep one charging while using one.
If you're reading this, just buy it, you won't regret it.;
Fantastic light!
Excellent light. Adjustable and versatile! Easily charged. Aluminum outside n anodized. A+;
Very handy light
Easy and fast to charge. It is great to grab and go without having to find an extension cord and plug in. I has good battery life.;
Adjustable and holds on to the hood
I love this light that just hooks onto the hood and gives light all across the engine bay without getting in the way. I've used drop lights and clamp on lines but they always seem to be in the way, plus there's no electrical cord.;
Best Under Hood Light Available
Very bright, very easy to use. Surprised on the battery life as well! Works outstanding indoors, and outdoors. My picture was taken at midnight.;