Aain A33K PVC Slat Wall Panel With 2 Pieces Slatwall Panel 48 inch and 6 Pieces Hook set, Ideal for Tools, Sports Equipmet, Crafts, Garage Wall Organization & Storage
$6299

$62.99
Free shipping for all items Up to 150 lbs!
---
【Slat Wall Panel Kit includes】: 2 wall panels, mounting hardware includes: 6 pc Powder Coated Steel Hook Set. 3 Double Hooks with PVC covered ends to protect your items, sizes 3",4",8". 3 Single Hooks without PVC covers, sizes 2", 4", 8".

【Multi function garage wall storage】 Make the most of your slatwall system, with a wide variety of hooks and baskets to keep all of your garage items organized and within easy reach.

【Installation】: This PVC slatwall panel can be mounted directly on columns or dry walls. It can be installed as a track or as an entire component. Send screws to ensure the firmness of hanging on the wall.

【Hook Capacity】: Exclusive all-metal locking mechanism to keep hook in place on slat wall panels. Each universal Hook Maximum recommended weight capacity upto 55LBS ;

【Purpose】:In order to tidy up your garage, shed, laundry, gym, craft room, etc., PVC slat wall panels will provide you with excellent storage solutions.
See more product details
---
---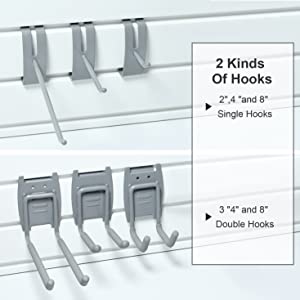 Garage Hooks,12-Pack Hangers,Wall Mount Storage Tools Multiple Sizes for Various Equipment Ladders,Bike,Hoses
2", 4", 8" Powder Coated single hooks
3", 4", 8" Soft Coated PVC tipped double hooks Weight Capacity per hook, 50 lbs.
Customize the hook placement to suit your personal needs.
You can use these to free up garage space by organizing & hanging ladders, bicycles long extension cords, Heavy-duty hooks are generously covered with protective material to avoid scratching hung items.
Nice assortment of useful sizes.
PVC materials is moisture-proof and corrosion-resistant. It also reduces the friction area of suspended objects.And also good as a bike hooks.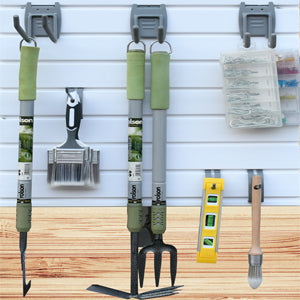 Strong, Versatile, Attractive Utility Hooks!
Multi-purpose garage hook for fixing various tools. Such as ladders, folding chairs, brooms, shovel, bicycles and other objects.
Sturdy hooks for garage organization
Great design makes quick positioning and easier fixing available, just place the slat hooks as our picture shows
---
This slatwall hooks are very versatile, whether you simply need storage or want a functional workshop.Hang whatever you want, wherever you want. We have a hook to for that! The kit includes: The installation hardware includes: 2 PVC slat wall panels, 12, 1.5 inches screws and 6 powder coated steel hook kits. 3 double hooks with PVC covered ends to protect your items, sizes 3 inches, 4 inches, 8 inches. 3 single hooks without PVC cover, size 2 "", 4"", 8 "". All metal locking mechanism for fixing hooks to slat wallboards. To ensure fast, efficient and safe reduction of your space.
Technical Details
---
| | |
| --- | --- |
| Product Dimensions | 48 x 12.6 x 0.67 inches |
| Item Weight | 9 pounds |
| Manufacturer | Aain |
| ASIN | B09G6717LJ |
| Item model number | A33K |
| Customer Reviews | 4.3 out of 5 stars 3 ratings 4.3 out of 5 stars |
| Best Sellers Rank | #686,891 in Tools & Home Improvement #1,507 in Utility Racks |
| Manufacturer's Suggested Maximum Weight | 55 Pounds |
| Finish Types | Powder Coated |
| Batteries Required? | No |
| Included Components | 2 Pieces Slatwall Panel with hooks |
---
We Also Recommend
---
It's Aain
Works with the Aain system, and as part of that, a bit overpriced for what you get. Then again, it's the better system I've used out there. Things don't move or come off when you lock them in the tracks.;
Great hooks
Great hooks for the price;
This i,n my opinion, is a great storage system
Although Welds aren't Straight, they Work Fine
I installed Aain Procore slatwall on various walls in my garage and overall I am extremely happy with their products. These hooks aren't welded on straight, but they worked just fine to hang various tools, helmets, and items from the Procore Slatwall. Looking forward to finally organizing my garage with additional Aain products.;