BMW X5 Light issues caused by footwell module
Posted by Tony Brown on
Model: E70, equipped with a 3.0L engine. 
VIN: WBAFE4105AL××××××. 
Mileage: 84380 miles 
Issues: 
The customer reported that the two front headlights were always on and could not be turned off, and the turn signal could not be turned on. In addition, none of the windows could be raised or lowered, and the driver window control switch was inoperable. 
Diagnosis:  
The screen displays prompts to repair the lighting system. 
In the test, it was also found that in addition to the malfunctions reported by the customer, the front fog lamp switch failed. After checking all related fuses in the vehicle's fuse box, no blown fuse was found.  
The Fault Diagnosis Instrument's result shows that lighting and FRM both have issues. (Error codes: A559, A3B4, A3C1.) 
We suspected that there was a problem with the power supply or wiring of the footwell module, but we did not find any problem there. Then we remembered that if the battery voltage is low or the current fluctuates during jump-start, BMW cars will lose data stored in the FRM module. Once the data fails to output correctly, the lighting module will not work, and headlights will remain on. 
The customer told us the car was difficult to start after a car wash. The tachometer was low, and the car started to have issues with lighting. Therefore, we removed the footwell module to check, no ablation or water ingress was found.The car did not have any issues with its hardware. After correcting the data and installing it on the FRM module the malfunction was fixed.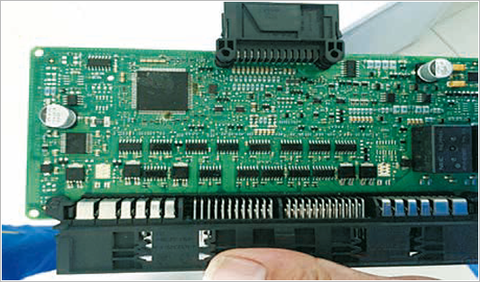 Footwell module of BMW X5 
Summary: 
BMW E-series vehicles have encountered many similar problems that follow the Footwell Module- 
It is reported that some technicians can cause the footwell module data to be lost at the moment of connecting the fault diagnosis device. The reason for this failure is that the battery voltage is too low during startup, and the current fluctuates greatly, which causes the data stored in the footwell module to be lost and sends or displays an error signal. 
Therefore, during maintenance, when the vehicle needs a jump start due to battery power loss, the ignition switch must be in the OFF position and only be started after the jumper cable has been securely attached to the battery terminal. The ignition switch must be in the OFF position before connecting the fault diagnosis device.  
---
Share this post
---
---
---
0 comment