ET105V 16 PCS Universal Radiator Pressure Tester, Vacuum Type Cooling System Kit for Universal Vehicles,Made in Taiwan
$6899

$68.99

Save $10
Free shipping for all items Up to 150 lbs!
---
Note
: 
Products with electrical plugs are designed for use in the US. Outlets and voltage differ internationally and this product may require an adapter or converter for use in your destination. Please check compatibility before purchasing.
See more product details
---
---
This radiator pressure tester helps you quickly find internal and external leaks in your cooling system.
8 colorful radiator cap adapters are included, The test range is from 0 to 35 psi, ideal for domestic and import vehicles.
Self-locking quick-disconnect components
Hand pump: 7" L x 1-5/8" diameter
Pressure gauge capacity: 0-35 PSI
Hose: 15" L (Include Tip)
Pressure tester to check leakage of radiator
Multi-adaptors included which apply to most car models in the market
0-35 psi, color-coded gauge, pressure release valve plastic carrying case.
Comprehensive operating instruction enclosed


Details
---
The portable blow molded plastic case keeps your tools safe and organized.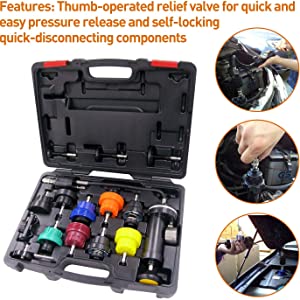 This color-coded pressure gauge ranges from 0 to 35psi, ideal for domestic and import vehicles.
Easy to use visible pressure gauge prevents unnecessary damage caused by water leakage.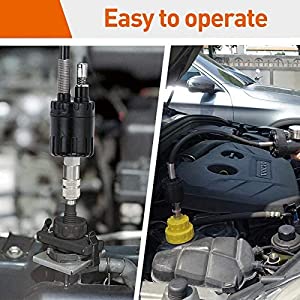 Colorful Radiator Cap Adapters
Easy to recognize colors, fits standard radiator caps. 
Technical Details
---
| | |
| --- | --- |
| Manufacturer | Aain |
| Brand | Aain |
| Item Weight | 5.72 pounds |
| Product Dimensions | 15.6 x 12.1 x 4.3 inches |
| Manufacturer Part Number | ET105V |
---
We Also Recommend
---
Intuitive
I say intuitive because it has to be, there are no instructions. Since it is a automotive cooling system pressure tester, I expected to have to use an adapter to connect where the coolant is added to the system. I picked through the numerous adapters provided, and found one that looked like a good fit. Right the first time! It screwed right on my expansion tank. Then I looked at the pump assembly and saw it was a snap fitting, and the adapter had the matching male fitting on it, so I snapped the pump onto the adapter and started pumping away. It took awhile to get it to 1 bar, and it seems to be holding - I'm writing this review to give it a chance to bleed down and hoping it doesn't.
There are a lot of parts in the kit, all arranged nicely in a latching plastic case. I have no idea what most of the parts that are not adapters for various types and models of vehicles are, and probably will never have a reason to find out. One item is a temperature probe, somewhat similar to the one you use to see if your roast is done in the oven. Looks nice, but I don't expect to need or use it.
All in all, having owned it for about 10 minutes now, I am very satisfied with this purchase - the cheapest unit I could find on a decent car parts website was about $200 - too much for my purposes, and I could not find one to rent locally.;
1999 Honda not covered
Had to grind another Honda adapter to make it work.;
Good quality and good price
Item works perfectly, easy to handle and simple to use.;
Good price
It was good material and easy to used good delivery times;