Aain AA021 1" Steel Wire Wheel Brush Cup Wire Brush for Removing Rust, Paint, Deburring, Fast, Easy for Angle Grinder, Pneumatic Tools 10 Pack
$2799

$27.99
Free shipping for all items Up to 150 lbs!
---
Size:
1 inch - 1/4 inch Shank
Type: 
1" Knotted Wire End Brush Package of 10
Wire end brush with 1/4-inch shank, suitable for 3/8 inch or 1/2-inch drill or a die grinder, primarily used for industrial or household cleaning.
High-quality carbon steel wire is 100% inspected to meet demanding quality specifications.
Knotted Wheel design is best for surface adhesion treatment before painting, spray coating, and electroplating.
Max RPM 22,000. Balanced for smooth performance.
Removes rust, scale, and weld splatter, ideal for surface paint peeling and grinding, cleaning carbon and paint from metal and other surfaces.
See more product details
---
---
I 1''x 1/4 in. Shank Twist Knot Wire End Brush
1'' x 1/4 in. Shank. twisted steel wire end brush is a great tool for fast light duty cleaning and polishing of smaller areas. Excellent for deburring and removing paint, rust and scale from steel surfaces. For use with portable drills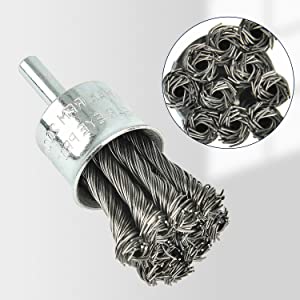 Perfect for small and hard-to-reach places, Ideal for cleaning molds, casings, pistons and ports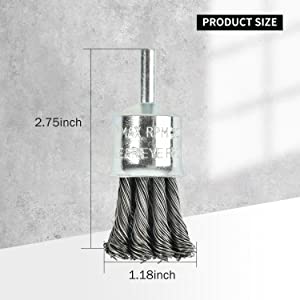 Knotted steel wire provides vigorous brushing action, Constructed of high performance wire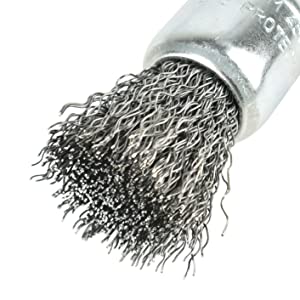 Brush Type: Twist Knot Wire End Brush,
Abrasive material: steel,
Application: Light duty,
Diameter: 1/4 in. shank for easy attachment,
Power tool accessory type:sanding/grinding/polishing accessory,
Tools product type: power tool
Technical Details
---
| | |
| --- | --- |
| Manufacturer | Aain |
| Part Number | AA021 |
| Item Weight | 5.8 oz |
| Style | 1 inch Knotted Wire End Brush |
| Brush Material  | Carbon Steel |
| Number of Pieces | 10 pcs |
| Color | Polished Steel |
---
We Also Recommend
---
work good
they work great for cleaning off rust and dirt;
Did the job
Had 2 2' pipe wrenches that had been found on various jobs. Both needed some love. These wire wheels were perfect for the job. Got in all the nooks and crannies for flakes of rust and chipped paint. None that I used had any issues of falling apart. I would definitely buy again.
Did the job
Had 2 2' pipe wrenches that had been found on various jobs. Both needed some love. These wire wheels were perfect for the job. Got in all the nooks and crannies for flakes of rust and chipped paint. None that I used had any issues of falling apart. I would definitely buy again.;
Don't get carried away with the RPMs
The fine ones are good for getting oxidation of aluminum in tight spots. The cups are great and seem to hold up well I guess. I've done auto body work for thirty years before retiring so I'm pretty rough on consumables. For the money I'd purchase it again. Good price